Specifications สเปคเครื่องรุ่น Beelink GTR 7 ล่าสุด ปี 2023
CPU : AMD Ryzen™ 7 7840HS Base 3.80 GHz boost to 5.10 GHz
GPU : 12 Cores 2700 MHz Frequency
SSD : PCIe 4.0 M.2 NVMe 2280 1TB SSD
Memory : Dual SO-DIMM 32GB DDR5
Cooling System : MSC Technology-Vapor Chamber and System Fan
AMD Ryzen™ 7 7840HS
8 Core
Magnetic Power Supply
Power
8C/16T
AMD Ryzen™ 7 7840HS
1TB SSD
PCIe 4.0 M.2 NVMe

GTR7 offers excellent performance. The Max Turbo frequency can reach 5.1GHz. Turbo TDP can reach 65W. Test results are for reference only, and the actual performance may vary due to environmental changes.
Reasons For Recommendation.
Magnetic Power
Supply 4+2+1 Power Supply Module
GTR7 adopts magnetic chuck, which connects the PC tightly to the power adaptor.
As is typical of the GT series, GTR7 features a convenient square fingerprint scanner module for rapid system unlocking.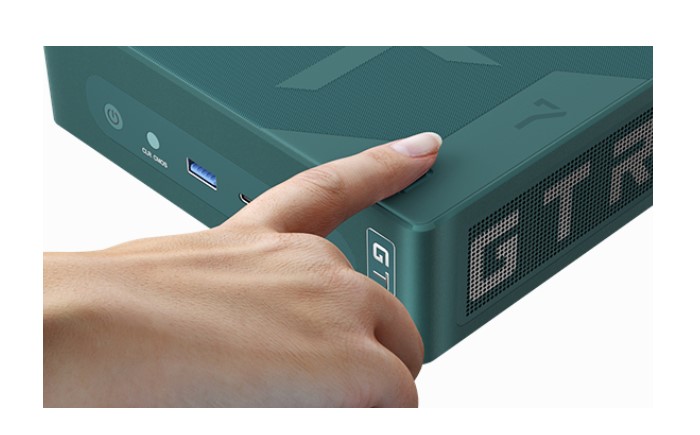 GTR7 adopts two built-in slots for DDR5-5600MHz RAM, which can support up to 64GB of dual-channel memory. Users can choose to have 32GB (16GB*2) of memory installed. The device also comes with a pre-installed M.2 2280 NVMe SSD with a capacity of 1TB in PCIe 4.0 x4 format. Furthermore, users have the option of adding an extra M.2 2280 NVMe SSD.
MSC Technology-Vapor
Chamber and System Fan
Vapor chamber quickly distributes the CPU heat to the plate, achieving effi-cient heat dissipation. The system fan and SSD heat sink dissipate the heat for the system, utilizing the airflow to provide efficient cooling for SSD and DDR.
Test at 30℃ for 2 hours under 65W TDP.
RDNA3 Graphics Card Architecture
Game Frame Rate Test
Testing environment: CPU-AMD Ryzen™ 7 7840HS processor with Radeon™ 780M,Memory-DDR5 32GB(16*2)-5600MHz, SSD-PCIe4.0 1TB,1080P,TDP 65W,30℃ ambient temperature.
GTR7 Mini PC is about 1/30th the size of an average desktop.